PRIME RPT-S500 Universal Battery Regenerator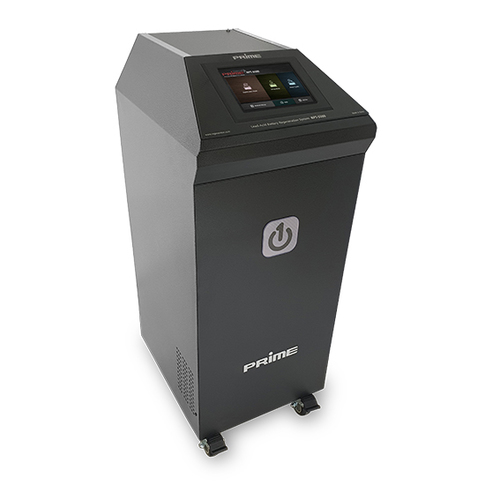 PRIME RPT-S500 Universal Battery Regenerator
Price And Quantity
Unit/Units

12000.00 - 25000.00 USD ($)
Product Specifications
53*68*110 Centimeter (cm)

67.5 Kilograms (kg)
Product Description
PRIME RPT-S500 Universal Battery Regenerator (Standard Type, 3-in-1)
2V~96V all-in-one voltage, Input AC Power Consumption: 4.5KW (max.), Max. 60A output current, 8 inch Touch Screen Monitor. This system easily de-sulfates all kinds of lead-acid batteries up to 1,000Ah (Optimized up to 1,000Ah, and more capacities are regenerated by repeated processes) such as Forklift, Telecom UPS, Golf Carts and automotive /solar/UPS batteries with sizes of 2-volt, 6-volt, 8-volt, 12-volt, 24-volt, 36-volt, 48-volt, 60-volt, 72-volt, 80-volt, 84-volt or 96-volt batteries. You can also connect batteries in series, such as max. 8 batteries of 12 volts each, which equals a 96-volt bank of batteries or max. 24 batteries of 2 volts, which equals a 48-volt bank of UPS and Forklift batteries as well. And more .... (Maximum Input AC Current : 20A, 210~240VAC, Single Phase - Direct cable connection to the main breaker)

RPT-S500 (3-in-1) : Packaging Size : 1100mm(H) x 530mm(W) x 680mm(D), 67.5kg DHL (80kgs)

1. Regenerator (2V~96V all adjustable voltages-in-one, 40Ah ~ 1,000Ah capacity) at 'REGENERATION' mode
2. Charger (2V~96V all adjustable voltages-in-one, Up to 1,000Ah capacity) at 'CHARGE' mode
3. Power Supply (2V~96V free setting mode of Voltage, Current & Time for special & sleeping batteries)

* Mainly used for 2V Forklift, TELECOM UPS & other Traction bank/rack connected batteries
* Maximum Limited Output Current : 2V~48V = 60A and 50V~96V = 30A
* A Discharger (RPT-D10K) is optional.
* The regeneration time with any PRIME regenerator takes 15 hours including a full charge. But any battery was already nearly full charged, the operation of PRIME will be automatically finished earlier than setting time.

* PRIME regeneration methods are not adding any sulfuric-acid and chemical additive in any cell at all.

* Special Advantages – All New Innovation!
1. Universal compatibility - All kinds of Lead-acid batteries from 2V to 96V and 40Ah~1000Ah (RPT-S500/S600)
2. A full automatic operation by very simple set up.
3. Excellent system durability and stability - Lowest defects by good quality parts and stable system
4. Lowest power consumption (ex. 48V 500Ah = About 40KW power consumption only for 15 hours totally)
5. Adoption of various electrical safety protection circuit design
6. Sustaining lower temperature in the battery by automatic output voltage & current control
7. Satisfactory customer service and quick after service
8. Portable light weights and easy to carry
9. Using anywhere with AC220V Single phase (RPT-S500/S600)

* Exclusive Advantages – All New Innovation!
1. Exclusive technology - The most advanced and optimized real high-frequency pulse regeneration technology.
2. Exclusive smart control system and high-frequency pulse inclusive current charging algorithm in a special Micom.
3. Exclusive regeneration software algorithm - Maximized restoration & desulfation effect and Minimal cell damage.
4. Exclusive bubble figure - The highest battery restoration performance with micro bubble de-sulfation process.
5. Exclusive multi-functional machine – 30% price only comparing purchasing all machines individually.
6. Exclusive circuit protection system and the most advanced circuit system design.
7. Exclusive regeneration performance - What could be better than PRIME? We are confident that there's nothing better!
8. Exclusive Power Supply Mode for manual setting regeneration and charge – Variable regeneration/charge methods.
9. Exclusive easy control and the easiest user interface by 8 inch TFT Touch Screen set up
10. Exclusive full automatic regeneration process and fastest desulfation & charge time (15 hours).
11. Exclusive Graph output and printing by USB connection with PC (Microscopic analysis of regeneration or discharge test processes – supplying a shielded A-A USB cable)
12. Exclusive elegant exterior housing design with achromatic colors

* PRIME does not give the cell damage with the higher voltage due to the integral equation by positive and negative high-frequency pulse waves (RMS - World exclusive technology).

Trade Information
Incheon Airport, Korea

Telegraphic Transfer (T/T)
Sample costs shipping and taxes has to be paid by the buyer

1100mm(H) x 530mm(W) x 680mm(D), 67.5kgs / Unit : Carton Box Packing